Humans are social beings. We thrive in social groups and get work done more effectively when we team up with others. Good communication is key to the success of any group, and therefore it's no wonder that tremendous technology investment and innovation have risen around fostering good communication.
On the business side, team communication (aka Slack, Yammer, Workplace, Microsoft Teams) have evolved rapidly. Casual, personal messaging platforms have exploded with new tools, and a quick search of the Apple App Store yields multiple results—many of them with an attractive modern UI, thoughtful workflow, and clever feature set.
Unfortunately, not all of the tools on the market have evolved to foster and support the many different ways we work together and communicate to reach our goals.
What about Google Groups, Yahoo Groups and Listserv?
When I used to log in to Google Groups or Yahoo Groups (or any ListServ in use by your organization) and I remember entering the time machine transporting me back to the distant technology past, circa 1986, when ListServ was invented. Google and Yahoo entered the mix by 2001 with the acquisitions of E-Group and Deja News which combined list mailing with newsgroups and threaded discussions. It is interesting that these products were not even built in-house, and I know from my personal experience, as General Manager of Yahoo Mail, that Yahoo Groups received minimal investment.
The widespread use of these groups cannot be overstated; estimates from internal sources reveal that there were more than one billion active groups with hundreds, and sometimes even thousands, of members.
As is often the case with big companies, Google and Yahoo focused on other products with much larger revenue. Older products that generate less revenue, such as Google Groups, ultimately get ignored and become abandonware.
Group Communication Grows Beyond Google Groups
While some exciting new products rise from emerging markets, another fertile ground for startups is revolutionizing the technologies with large user bases that have become abandonware. By staying laser-focused on solving customer problems, these startups can fill a long-sought need among users who feel the frustration of being stuck with free tools that cost too much in time inefficiency to be worth the cost. Professional group and network communication is no exception and that huge opportunity led to the founding of Mobilize.
The founders of Mobilize, Sharon Savariego and Arthur Vainer, observed that many of these groups are of critical importance to their leaders, and the companies or organizations they support. These leaders need modern tools: a powerful, easy to use member database and an all-in-one solution for email, SMS, events with build-in-analytics.
The Future of Private Professional Networks
Our observation and thesis was validated by dozens of brand name customers such as Prezi, Looker, Etsy and Docker who transitioned off of Google and Yahoo groups to Mobilize to manage their thousands of global partners. For many years, these leaders had suffered from lack of efficiency—piecing together Google Groups, Listserv, Meetup, Facebook Groups, Excel and Doodle. With Mobilize, they finally had an integrated, efficient, professional system they could leverage to dramatically grow their groups and increase engagement in a private professional network.
What's more, Mobilize makes it super easy to convert existing Listserv, Google and Yahoo Groups to the robust functionality of Mobilize Groups. After using the import wizard, leaders have at their fingertips a robust database of their members, powerful communication tools including email, SMS, polls and events and powerful analytics. Learning from our customers' successes, a positive feedback loop ensued with Mobilize making improvements and adding features that attracted new customers.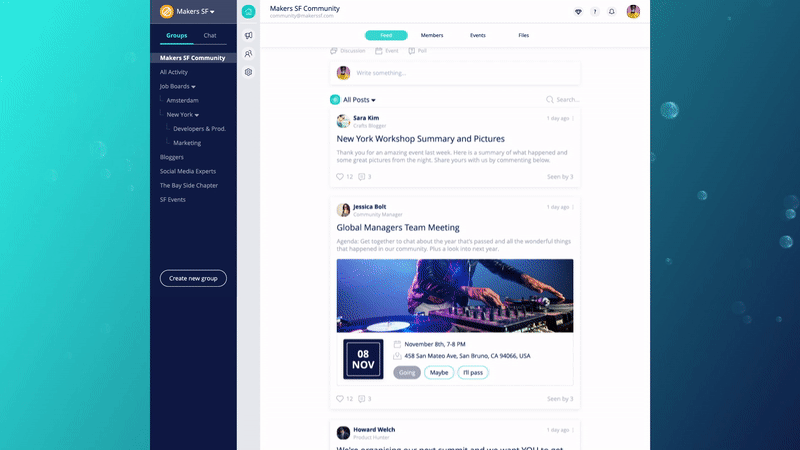 ‍
Clearly Google and Yahoo saw their Groups product as simply a consumer tool with limited revenue opportunity and put their priorities elsewhere. and now with those products off in the sunset, we recognize the huge need for professional group communication with a well-designed platform. The rapid adoption of Mobilize by over 150 leading brands is proof of this unmet need.
In the new economy, organizations increasingly rely on professional networks to achieve their missions— and these groups have become business-critical. More than 5,000 group leaders are using Mobilize to communicate with over 250,000 group members, and the platform is flexible enough to support diverse groups such as distributed sales teams, resellers, association members and movement leaders, and many more. We estimate the professional group communication market to be valued at $65 billion. It's growing—driven by the increasing importance of network-driven businesses that require a robust platform with privacy and security.
For that reason, it's an exciting space to be working in, and one I'm thrilled to be supporting. If you're looking to move away from Facebook Groups, or have been looking for a replacement since Yahoo and Google Groups are gone, take a look at Mobilize.
‍